Saturday in Red & Blue..
11:30


Disculpen todas mis lectoras por tener tanto tiempo olvidado el blog, a partir de hoy prometo publicar todos los dias, he andado algo ocupada, pero me hare tiempo para continuar con el.
El dia de ayer fue un dia tranquilo, desde que me mude a la ciudad mis dias son un poco mas motonos y algo tranquilos. Fuimos a ver los partidos del Real Madrid & el Barcelona a Outback. Fui con mi novio y sus amigos. Estuvimos en el restaurante como 4 horas, mas tarde decidimos ir a dar una vuelta por la plaza. Despues fuimos a unas cachas que estan ahi mismo donde todos jugaron futbol (obviamente menos yo). Por la noche, estuve un rato en casa de mi novio y regrese temprano a mi casa. Ustedes ¿Que hicieron? ¿Como estuvo su fin de Semana? ¿Que opinan sobre el outfit? Un beso a todas!



An apologize to all my readers 'cause I haven't published anything in the blog, until now I will publish all days, I've been busy but I will find the time to continue with it.
Yesterday was a very calm day, since i moved to the city my days are more equal and calm. We went (my boyfriend's friends, him and I) to Outback to watch the Real Madrid and Barcelona soccer games (the played separately). We spent like 4 hours in the restaurant. Later we decided to walk in the mall. After I accompanied to them to play soccer. At evening I spent some time in mny boyfriend's house and then I came back home. And What did you do at weekend? How was your weekend? What do you think about the outfit? A kiss to all of you!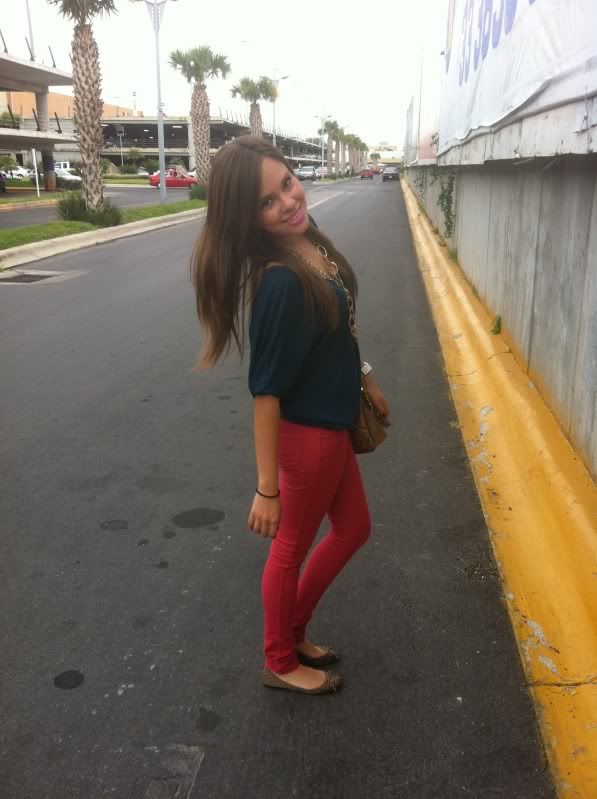 Shirt/Playera: Bershka
Pants/Pantalones: Bershka
Belt/Cinturon: Bershka
Bag/Bolsa: Vintage
Flats/Balerinas: Pull&Bear