At sunset the weather gets colder.
10:56


Hola a todas! El día de ayer fue de lo más tranquilo. Estuve en casa toda la mañana y mi novio vino a hacer una tarea, después de que terminó nos fuimos a su casa a ver películas. Sobre mi outfit, se que esta blusa aparece en un post abajo, pero ya que no he tenido cámara no les he podido mostrar los demás. Quise usarla ya que me encanta esta blusa, la combine con jeans ya que quería un look simple y casual, y mis botitas para cubrir mis pies del frio. ¿Qué les parece? ¿Les gusta? Que tengan un bonito inicio de semana!

Hi everyone! Yesterday was so calm. I spent at home all the morning. My boyfriend came to my home to do some homework he had to do. Then we went to his home to watch movies. About my outfit, I know that this shirt appears in one post above, but as I didn't have a camera to take the pictures I haven't show you my other outfits. I wanted to wear this shirt with my jeans because I wanted a simple-casual style, and my boots to cover my feet from cold. What do you think? Do you like it? Have a nice week!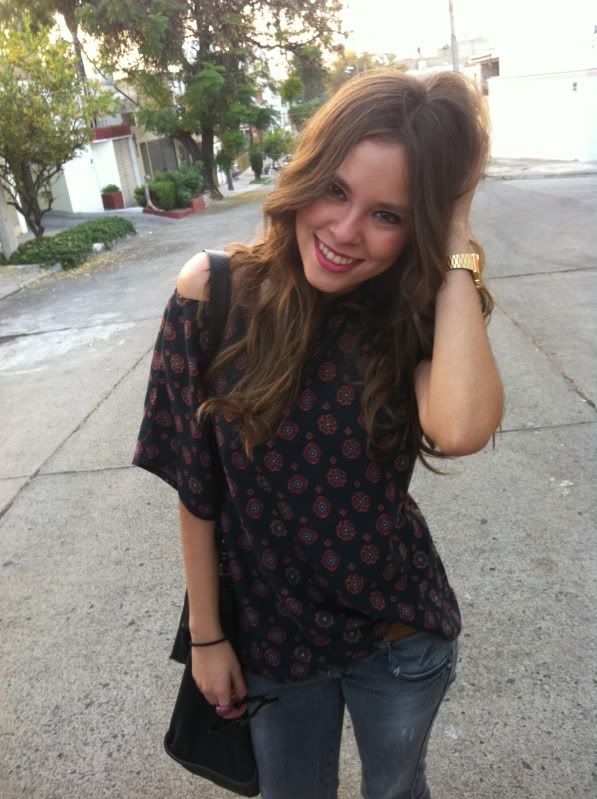 shirt/playera: VINTAGE
jeans/pantalones: Bershka
Belt/cinturon: Bershka
Jacket/Chamarra: Bershka
Bag/Bolsa: Bershka
Boots/Botas: VINTAGE
Watch/Reloj: CASIO